Our team has been hard at work on a handful of improvements to WarcraftPets. Many of these updates came directly from your
your suggestions
.
Alternate Skins for Your Profile Pic
First up, you've got
new profile pictures
to choose from. For each pet that has more than one skin available in-game, you can now set your avatar to
ANY
of its skins.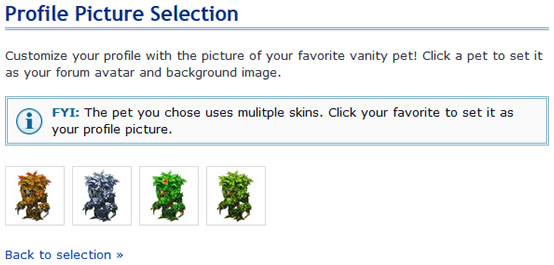 This is true of pets that have more than one model, as well as those that can change their colors, such as the
Blossoming Ancient
(shown above).
More Accurate Leaderboards
Our
realm leaderboards
now display all
current
site users by default, rather than all users. The list automatically filters out anyone who hasn't logged into their account for 6+ months. This was done in an effort to display more accurate results, as well as to reward our more regular users.
Note that you can toggle inactive users to display in the rankings if you wish.
New Pet Filters
You can now
filter pets
with a number of new views:
Faction → Alliance | Horde | Neutral
Availability → Not yet available
Pet Properties → Has unique abilities
These newest filters give you more flexibility in finding specific pets and in segmenting your own collection.
Realm Shown in Forum Sidebar
When you're browsing forum posts, you'll now be able to see a user's realm and region shown in the sidebar. That should make it easier to coordinate pet trades and other activities that are dependent upon a user's realm.
Other Goodies
We're not done yet! Here are a few more tweaks to help you get more out of WarcraftPets...
New forum: PTR / Beta Discussion
If you've got an itch to discuss beta pets and upcoming game changes, post in our new
PTR / Beta Discussion
forum. This forum should make it easier to find and organize information on beta pets and upcoming game changes.
Updated Achievements Guide
We've completely reworked the
Pet Achievements Guide
. The achievement categories in the guide now match the in-game categories. We'll also be updating the guide with additional achievements within the next week.
Updated Pet Macros
You'll find some new macros in our
Pet Macros
section. We've also fixed a few of the older macros that were no longer working after the launch of patch 6.0.
As Always, Thanks!
Once again, we'd like to that you, the members of the WarcraftPets community, for providing us with your suggestions. It helps us make this site all the more useful for everyone. We also thank you for your
continued support
through donations and word of mouth — we appreciate your help.