Yesterday we posted news about
new pet families coming in Battle For Azeroth
. The pets looked pretty... neat.
*averts eyes from Nekkid Humanoids*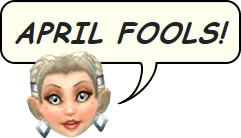 As far as we know, new pet families are not planned for the next expansion. Testing is still in the early stages, however, so we'll have to wait and see what Pet Battles has in store for us in Battle For Azeroth.
Inspiration
For this April Fool's, we pulled inspiration from the newly added
Allied Races
. These races are essentially factions that branched off from existing races (Draenei and then Lightforged Draenei, for example), so we wondered what would happen if the existing pet families received a similar treatment.
We even began brainstorming some secondary, bonus family passives for these new pets.
Flightless Flying - Flying family passive plus 'Flightless Fury', deal 30% extra damage when below 50% health.
Bio-Mechanical - Mechanical family passive plus 'Nano-Tech', recover 3% of max health if dealt damage this round.
Ultimately, we decided to omit these imaginary second passives to avoid making these pets appear too "real".
It was lots of fun making up new pets and passives — create some of your own and let us know!
Our thanks to Ooghra
We'd like to extend a big thank you to
Ooghra
, who created all of the April Fool's images, plus imagined up the "Antlered" pet family. Her work was also featured in our
2016 joke
. Our April Fool's wouldn't be possible without this very talented artist!