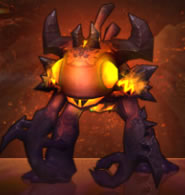 Blizzard has officially announced what this year's Blizzcon in-game redeemable item is. It is none other than Murkablo, the Diablo themed baby murloc! Along with Murkablo, Blizzcon ticket holders and those that have purchased a virtual ticket will also receive a "yet-to-be-revealed StarCraft II in-game gift." [
source
]
A Not So Fiery Secret
After the virtual ticket mishap, the odds that Murkablo would indeed be this year's redeemable item skyrocketed. It's quite difficult to keep such a large bundle of demonic power a secret though, don't you think?
Along with a fiery breath and smouldering body, Murkablo will blow smoke rings and hop through them like a daring acrobat. Needless to say, while he doesn't have to worry about all of his "hot" antics, I'm sure the rest of us will want to keep a bucket of water on hand just in case.

Check out MMO-Champion's video preview of Murkablo!