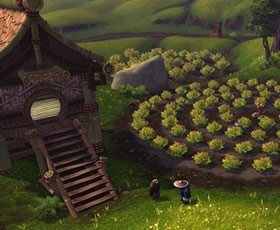 Raising Your Own Companion
There aren't many details about this possible feature, however developers are considering allowing players to "grow" their own companions on the personal farms a la FarmVille style.
"Among the possible things you can work your green thumbs on are herbalism nodes, cooking ingredients, gifts for different NPCs that'll raise your reputation with their faction, and non-combat pets."
[
source
]
Selling and Buying Minipets
While it wasn't mentioned or confirmed during the Mists of Pandaria Press Tour, according to Bashiok's recent blog post, trading and selling leveled up companions may still be a planned feature for the upcoming expansion.
"I wasn't a very avid pet collector before, but after battling some of my friends (and seeing how much some of the trained pets sell for on the auction house) my interest has definitely skyrocketed."
[
source
]
Bashiok also hints at a new faction currency, Craftsman tokens, that can be used to buy faction items such as toys and vanity pets.
So put your farm hats on and be ready to haggle out prices with the locals and fellow pet collectors alike!