UPDATE
: The mount and the pet from the Collector's Edition and the Digital Deluxe Edition are Battle.net account wide. [
source
]
Blizzard has officially announced the release date of the next expansion pack, Mists of Pandaria. Players will be able to enjoy the new content starting on September 25, 2012. [
source
]
Players will have four purchasing options for the upcoming expansion. [
source
]
The standard box edition of MoP
The Digital Download
The physical box version of the Collector's Edition
The Digital Deluxe Edition
A New Way to Obtain the CE Pet
Traditionally, the only way to obtain an expansion's special redeemable in-game vanity pet was to purchase and attach a Collector's Edition copy to your Battle.net account. However, MoP will be the first expansion in which there will be an alternative to buying the physical copy of the CE.

Blizzard is offering a Digital Deluxe Edition of MoP for $59.99 USD. For more information, check out the official
Digital Deluxe Edition page
.
In addition to being able to pre-download the new content and play the moment MoP launches, this version of the expansion will also come with the Collector's Edition companion, the
Lucky Quilen Cub
(pictured below), and a new mount.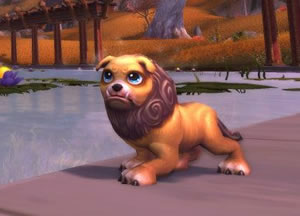 Players may still purchase the physical box copy of the Collector's Edition from retail locations for $79.99 USD. Only a limited number of copies will be available, so inquire at your local game store for more information. This version of the game will also come with the redeemable companion pet and mount, as well as many other gifts.
Upgrade Later
Players can purchase the standard version of the expansion now, but can upgrade to the Digital Deluxe Edition for an additional $20 later. So if you start your travels through Pandaria and find that it feels a little lonely, you can always claim your very own Lucky Quilen Cub at a later date!
MoP Beta Key Sweepstakes!
Can't wait until September 25 to get your first taste of Pandaria and all the wonders of MoP?
Starting July 31, Blizzard will be giving away a total of 15,000 beta keys! [
source
]
Each Tuesday over the next five weeks, Blizzard will randomly select 2,000 winners to receive a MoP beta key, and every other winner will also receive a second key for a friend.
To enter, just follow
Warcraft on Facebook
and then complete the
entry form
. Players have from now until August 27 to enter for a chance to win.
For more information, check out the
rules and eligibility
page or the
FAQ
.