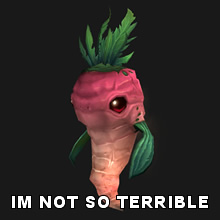 Collector's Edition Pet
A new beta build will be deployed shortly. Datamined from the latest patch are hints of what the MoP Collector's Edition pet will be — a Lucky Quilen Cub! [
source
]
The Quilen creature is a lion-like creature, as seen
here
, that can be found on the island of Pandaria.
In addition to a companion, a
mount
version of this intriguing creature was discovered as well. The Imperial Quilen is also labeled as a Collector's Edition item.
This is the first instance in which a CE mount was discovered along with a companion pet. It's not clear if players will receive both the pet and the mount after attaching a CE version of the expansion to their account, or if players will have to choose between one or the other.
The Terrible Turnip
Ever wondered what an unusually large turnip minipet would look like?
Well, look up top!

In addition, MMO-Champion has
two more screenshots
of what appear to be a turnip and a carrot; the former being appropriately named "turnippet"!