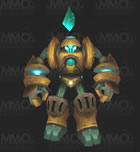 A new build of patch 3.3.3 came out on the PTR and
MMO-Champion
lists a newly datamined pet:
Lil' XT - Right Click to set down or pick up your Lil' XT action figure.
So will it be the next Blizzard Pet Store offering, akin to
Lil' K.T.
? Will it be a new drop from
XT-002 Deconstructor
? As usual, we will have to wait and see. I hope the mini version is just as annoying as the big one - can't get enough tantrums, nope!