UPDATE
: According to Wowhead, a new battle pet,
Jingles
, will be waiting in a present under the holiday tree in Ironforge and Orgrimmar! Be sure to check on Christmas Day (December 25th). [
source
]
We'll update our database with this pet as soon as we can!
Happy Holidays from
all of us
at WarcraftPets. Wishing everyone a safe and wonderful season, plus a fun Feast of Winter Veil!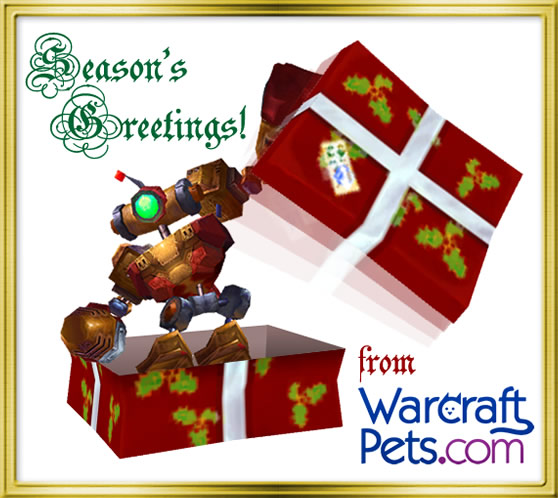 Tis' the Season
Don't forget to check under the holiday tree located in Ironforge and Orgrimmar starting on December 25
th
. Unwrap the gifts and you may find neat toys, holiday items and food, and
several festive pets
.
As the season is now officially winter in the Northern Hemisphere, the
Snowy Owl
has started spawning in Winterspring. Be sure to capture one before winter ends!
Last but not least, there is also a
Blizzard Store sale
on battle pets (and other digital items and services), if you desire even more cuddly companions. All pets from the Blizzard Store are 50% off until
January 4, 2021
. This even includes CE pets from a few previous WoW Digital Deluxes. Send a friend or family member, or even yourself, some additional holiday joy in the form of an adorable new pet!
A Tough Year
A message from
WarcraftPets Site Creator and Owner
:
Most of us would agree that 2020 has been a difficult year. We hope our little corner of the Internet was able to bring you an occasional smile, and a much-needed ray of light on those darker days.

For so many of us, pet collecting / battling is a simple hobby inside of the vast World of Warcraft — a world that this virus can't touch. And 2020 has reminded us how soothing our hobbies can be. Adding another sought-after pet to our collections has been a real boon, not unlike sourdough starters and jigsaw puzzles.

There are still some tough days ahead. But the darkness will eventually subside. Better days ARE coming. And until they arrive, WarcraftPets will be here to provide a bit of relief.

Thank you for supporting us. Be well, and stay safe.
—Brian Brolin (aka Breanni)