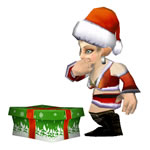 Season's Greetings from
all of us
at WarcraftPets! We hope you and yours have a Merry Christmas, a Happy Hanukkah, a Festive Kwanzaa, and last (but certainly not least) a Wonderous Winter Veil!
Holiday Tip
Be sure to unwrap your Winter Veil presents, all of which will be available under the Winter Veil trees in Ironforge and Orgrimmar beginning on December 25
th
. This is a great time to round out your pet collection with several
Winter Veil pets
that are readily available at this time of year. And if you don't get the pet you want, check the auction house — there will be some great deals on Winter Veil pets through early January.
It's been our privilege to bring you WarcraftPets throughout 2009. We wish you a prosperous and pet-filled 2010!