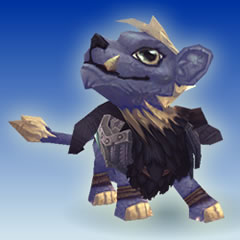 At long last, the adorable mini-pet version of the Winged Guardian will make its official appearance in the Blizzard PetStore in the coming weeks! Much like the other PetStore companions, the Guardian Cub will cost $10 (USD), however there are a few factors that will make this cub different in its use. [
source
]
In-Game Tradable PetStore Companion
Unlike previous mini-pets from the official Blizzard PetStore, the Guardian Cub will be the first PetStore pet that is tradable between characters in-game (after a short cool-down period). Blizzard has also announced that players who purchase this pet will be able to sell the companion item on the Auction House. This means players will have the option of purchasing the Guardian Cub for one of their characters using either real life money or in-game currency.
Because of these unique factors, this pet item will have a
one time use per character
(single-use), and upon adding the Guardian Cub to your collection the item will disappear from your inventory. You can, however, hold more than one Guardian Cub item in your inventory at any given time.
For more detailed information on this unique bundle of cuteness, check out the official Guardian Cub sneak peek link above! We'll be adding the cub's pet profile to WarcraftPets soon, so check back in the coming weeks.