Straight from the Haunted Mines and into our hearts, we're featuring Graves for this Pet of the Month!
Collecting Graves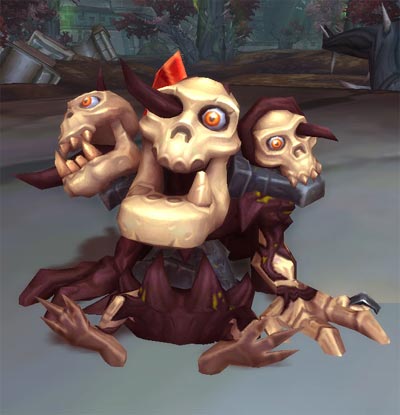 Collecting
Graves
requires a bit of time investment in Blizzard's new game,
Heroes of the Storm
.
Earn account level 20 (not to be confused with hero level) and Graves will appear in your collection in WoW.
Heroes of the Storm is free-to-play and part of the
MOBA
(Multiplayer Online Battle Arena) genre. It's a team-based game, but completing objectives is just as important as the team fights. You can choose to play against other players or against computer-controlled NPCs.
There are three game-modes available to all players initially — Training, Versus A.I., and Quick Match. These three modes are the primary ways to earn levels.
Training and Versus A.I. are almost the same, except your team is comprised of other actual players by default in Versus A.I. You can choose to play with all computer-controlled teammates, however.
There is a daily experience cap for both of these game-modes. Once you've reached the daily limit, you will not earn anymore experience until it's reset (24 hours).
Quick Match is an entirely PVP version of the former two. Objectives and team fighting remain the same, but you'll be interacting with other players who may behave differently than A.I. Quick Match games may take longer to complete, but can reward more experience.
Unlike Training and Versus A.I., there is no daily experience cap in Quick Match.
Once your account reaches level 10, you're granted a free 7 Day Stimpack. This increases the amount of experience earned per match by 100%. Be sure to make the most of this boost; it only lasts seven days!
You can also purchase Stimpacks for real-world money. The in-game Heroes of the Storm shop has two options available — 7 Day Stimpack and 30 Day Stimpack. Both provide the same experience (and gold) bonus.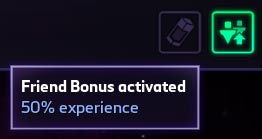 To ramp up your experience yield even further, inviting a friend to your party and playing matches with them grants 50% more experience per game. This stacks with the Stimpack bonus.
Last but not least, as part of Heroes of the Storm launch celebration, there is a
limited time event
for players in the Americas region. From June 16
th
through June 24
th
, players will receive a 100% experience boost.
In the end, earning account experience comes down to simply playing Heroes of the Storm. Win or lose, you earn experience just by participating and finishing a match in any game-mode. Winning yields more, of course.
Check out our
forum thread
dedicated to discussion on collecting Graves for more
helpful leveling tips
and tricks.
During your journey through the various battlefield maps, you might even come across a familiar creature in the Haunted Mines. Although Graves is mostly harmless, his larger counterpart can be quite formidable. Good luck!
Battling with Graves
Graves is a little Undead golem who packs a big punch. This comes in the form of two deadly AOE spells.
Grave Destruction
is a split spell which deals damage to the whole team. The overall damage dealt stays the same, but is split among the pets left alive, so as pets start dying the hits get bigger. It also destroys objects, shaking up the existing PVP meta.
BONESTORM
deals a lot of damage, but at the expense of health, and it deals a static amount of damage to each opponent, making it deal gradually less DPS as you mow down your opposition.
Luckily, Graves has a built-in way to deal with that BONESTORM health loss, with
Consume
. The catch is, if you choose Consume in the first slot, you'll frequently have a 'down' turn or two, because all your abilities will have cooldowns.

The other slot one choice,
Skull Toss
(pictured above)
, is the only ability Graves has without a cooldown. It deals a bit more than double the damage as Consume, but without the useful healing kicker. Depending on how you'd like to play with Grave Destruction and the teammates you choose,
Consume Corpse
may be a more solid choice in your second slot.
The last ability Graves has is
Clobber
. It shares a slot with Grave Destruction. Because Grave Destruction is such a big deal in the PVP meta, and because stuns tend to be relatively useless in PVE, it's going to be a rainy day in the Haunted Mines before you choose that Clobber.
Check out our forum thread discussion on Graves and submit your own thoughts on this pet.
Battling Discussion on Graves
Pet of the Month is co-written by Liopleurodon, an experienced pet battler and long-time WoW player. She maintains her own Pet Battle blog and is a Pet Battle columnist on the fansite Blizzard Watch.