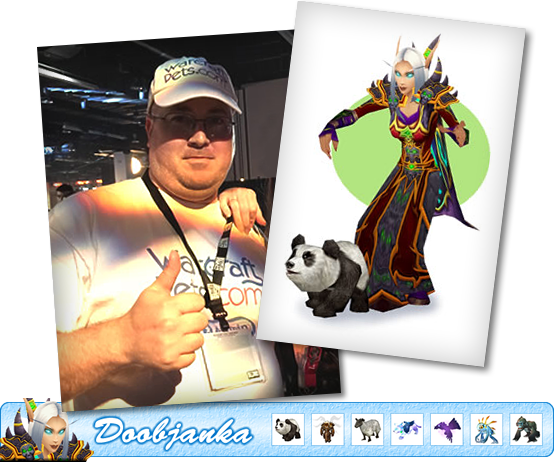 It is with heavy heart that we say farewell to Curtis Mueller (a.k.a Doobjanka), WarcraftPets' community leader for the past 6+ years.
It was 2009 when
Doobjanka joined the WarcraftPets team
. He'd caught my eye as our leading pet collector for many months. As I got to know him, I knew he'd be the perfect candidate to lead our growing community.
Big Shoes to Fill
Throughout the years, Doobjanka has accomplished much for WarcraftPets. He initially signed on to field questions and account-related issues, but he's achieved so much more than that throughout his tenure.
Doobjanka ran our site contests, manned our
Twitter
and
Facebook
accounts, and helped manage our forums.
Later he would host our
BlizzCon Meet-and-Greets
solo, always eager to engage fans of the site in person. His passion for pets was grand – he could talk for hours on the subject and tell engaging stories about his adventures. He knew WoW pets like the back of his hand.
But Doobjanka's greatest legacy is something he did all on his own. In 2012, he created the
WarcraftPets family of guilds
. He recognized the need to bring fans of the site together in-game and took it upon himself to make that happen. Without Doobjanka, guilds like WarcraftPets, Magical Menagerie, Pet Peeves, Littlest Pet League and Dead Mole Society wouldn't exist today.
A Heartfelt Goodbye
While I'm saddened by his decision to step down, I completely understand and applaud his choice. He's ready to move on and enjoy other aspects of his life. I know that if he approaches those things with even half the enthusiasm and optimism that he brought to WarcraftPets, he'll be wildly successful.
If you'd like to say your own goodbye to Doobjanka, feel free to do so in his
goodbye post in our forums
, or leave a comment below. I know we'll all miss him.
New Volunteers Welcome
For the time being, I'll be covering for Doobjanka in the spare time I have. But I'd love to bring on another volunteer to take up the cup of being WarcraftPets' new community leader full time.
If you're interested in becoming WarcraftPets' new community leader, keep watching our news feed. Within the next week or two we'll post details about the position and how you can apply.