Yesterday we reported about how you could
trick out your vanity pets in MoP
. Today we have even more news and screenshots for you: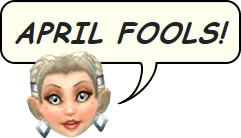 Yes, we're sorry to say that there will be no Micropets or Mini Mounts in MoP (at least none that we're aware of). But on the plus side, you won't have to "grind" your way through thousands upon thousands of pet battles to earn such items either.
So at least there's that.

We'd like to extend a special thanks to
Drrum
for providing us with the artwork for our joke (including the images above). If you haven't done so yet, be sure to visit
Drrum's Pets and Mounts Gallery
, featuring the most beautifully coordinated screenshots of her extensive pet collection.