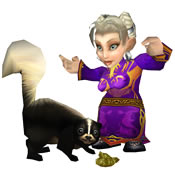 Ever wish your in-game pets were a little more realistic? Well, we've got news for you! WarcraftPets has obtained exclusive information regarding a new vanity pet innovation slated for
Cataclysm
.
After rave reviews for
Perky Pug's
rather unorthodox "butt scooting" idle animation, companion pets are being given the ability to, well... relieve themselves in the expansion. I know, I know. It sounds disgusting. But believe it or not, even defecation can be cute...
Disgustingly Cute
If the prospect of companions messing the landscape isn't very appealing to you, fear not... cuteness prevails! True, some pets will leave a pile of poo at their owners' feet, but not all. For example, the
oozling pets
will leave behind tiny green globules. Meanwhile our
mechanical pets
will deposit a pile of gears. And some
birds
will even bombard players from above with "good luck" droppings!
Clean-Up-After-Your-Pet Accessories
Sometimes pets will receive the
Stanky
debuff after doing their business. No problem—just pick up a
Pet Grooming Kit
from
my counterpart
in Dalaran. Heck, she might even sell a pooper scooper in the expansion.

More Info:
List of Pets and Pet Droppings »