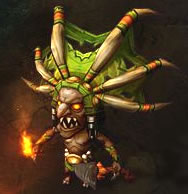 In the latest Quarter 4 Activision Blizzard Conference Call, Blizzard announced a tentative release time frame for Diablo 3. [
source
]
We've only ever said "early 2012". And we just decided we'd need until Q2 this week.
According to
Diablofans.com
, Quarter 2 (of 2012) places a possible release date sometime between April and June.
Collector's Edition Redeemable Pet
So how is this relevant to vanity pets in World of Warcraft? It was officially
announced
at Blizzcon 2011 that a WoW redeemable in-game mini-pet, the Fetish Shaman, would be part of the
D3 Collector's Edition
package!
For those eager to get a preview of this pet, MMO Champion has posted a video of the Fetish Shaman in action:
Keep in mind only a limited number of CE D3 games will be sold. To find out if pre-orders for the Collector's Edition are still available, inquire with a local video game shop or an online store such as Gamestop or Amazon.
So if you're a Diablo fan or only interested in adding the Fetish Shaman to your pet collection, keep your eyes peeled for a D3 release date! Hopefully it will be announced
Soon™
.