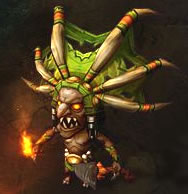 Diablo 3 Collector's Edition Pet
The
Diablo 3 Collector's Edition
was announced during Blizzcon, but the announcement was unfortunately overshadowed by the huge news of the new pet battles coming in
Mists of Pandaria
. As many Diablo fans have already guessed, the World of Warcraft in-game redeemable item from the Collector's Edition of D3 will indeed be the Fetish Shaman.
This fierce looking companion can already be found in the 4.3 PTR datafiles, and will be Bind on Battle.net account.
It's likely only a limited number of D3 Collector's Edition copies will be sold, so keep an eye out for presales for the CE version of the game!
Soul of the Aspects
MMO-Champion did some digging within the latest PTR build and found yet another new pet — Soul of the Aspects. [
source
]
There's no information on where this companion will come from or how it will be obtained, however its item's icon has some striking similarities to the "Chromatic Dragon Pet" that can be previewed (in 3D even!) on
Wowheadnews
.
The Soul of the Aspects pet is currently listed as a Bind on Pick Up, blue quality (rare) item. Hopefully we'll have more information and a preview of this companion pet in the near future.