Welcome to WarcraftPets' first Community Spotlight!
What is Community Spotlight?
Community Spotlight is a new WarcraftPets feature where we take exceptional pet-related user creations and showcase them a few times each month.
Everyone is welcome to submit an original composition in our new
Community Spotlight
forum section. Sometimes a theme will be announced as the topic of the next spotlight, so keep an eye on the forums.
Posts chosen for a Community Spotlight will be presented on our home page, as well as stickied in the new forum. An archive of previous spotlights will also be available for browsing.
Whether it's a detailed guide, custom artwork, a unique video, etc., we'd love to see your creativity!
Carry Pet Experience Guide
Leveling pets by defeating Trainer teams has been widely regarded as the most efficient way to earn experience for your pets. However, Trainers reward different amounts of experience depending on their level and the level of your own pet.
WarcraftPets user
Jerebear
has created
a detailed guide
on how much experience carry pets of varying levels will receive after defeating each Trainer.
If you're interested in maximizing the amount of experience earned per battle or if you're simply curious, this guide will have all the information you need (and then some!)
Trainers are categorized by location and each has its own mathematical equation to calculate experience earned. Experience buffs are not included in the Classic and Outlands equations, and the equations cater to only one carry pet on a team.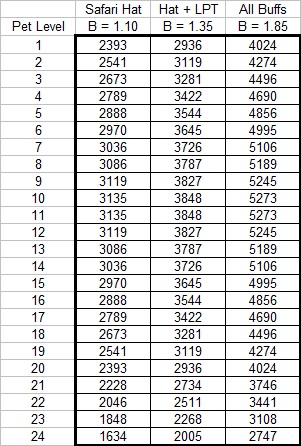 Encounters at higher progression levels have an overall experience equation for Trainers of similar level. Charts are provided for these higher battles (example picture right), which makes it easy to look up which level pet will gain the most experience from a group of Trainer battles.
Carry Pet Experience Reference
With this invaluable information and insight on pet experience, it's time to go out and make the most of each Trainer battle!
Behind the Spotlight
Jerebear joined WarcraftPets on September 15, 2013 and has amassed a collection of 554 pets.
Community Spotlight features user-created content and guides that provide significant value and entertainment to the community. Post your own creation in our Community Spotlight forum and it may be featured here!
Disclaimer: Content presented in Community Spotlight is user-created, and opinions of authors and creators may not necessarily reflect those of WarcraftPets.