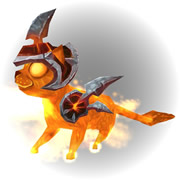 The Cinder Kitten is currently on sale for 25% off in the Blizzard Pet Store. [
source
]
Although summer will be coming to an end soon, keep warm all year round by snuggling up with an adorable
Cinder Kitten
!
Not only will it be a faithful companion, you can train it to Pet Battle as well. It has a combination of feline attacks and elemental abilities, but its most devastating move is its ability to tumble adorably around mid-battle. If only cute could kill!
If you're interested in picking up this pet, keep in mind that the Pet Store sales are regional. The
US store can be found here
, and the
EU store here
.
The sale ends September 3, 2013 so don't delay in adopting the Cinder Kitten!