UPDATE
: As of April 22, 2021 we've reached the second donation goal of $1 million USD! Congratulations, everyone!
Daisy
the sloth should be available for everyone to claim
starting 23 April
. We'll add this pet to our database as soon as we can.
UPDATE
: As of March 24, 2021 we've reached the first donation goal of $500k USD!
Players can claim Bananas from the Blizzard Store (
US
)(
EU
) for free up until August 1, 2021. Those that already own Bananas will receive a second one.
The official announcement for Blizzard's Charity Pet Program was recently released. Support
Doctors Without Borders/Médecins Sans Frontières (MSF)
, an independent international medical humanitarian organization, and help unlock not one but two battle pets for everyone! [
source
]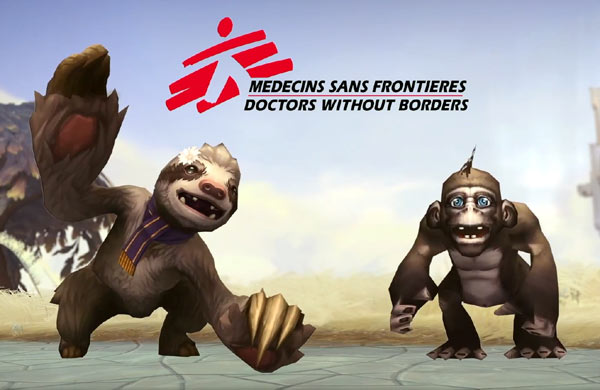 Details for the Charity Pet program are now available. Donate any amount to Doctors Without Borders
between now and April 26, 2021
, and help reach the following donation goals to unlock
Bananas
and Daisy the Sloth for everyone. All donations go directly to Doctors Without Borders.
Bananas goal: $500,000 USD
Daisy the Sloth goal: $1 million USD
Donate to Doctors Without Borders
Once respective donation goals are met, Bananas and Daisy will be claimable through
August 1, 2021
, regardless if you donated or not.
$1 million USD to unlock a new battle pet may seem like a lot, however almost all
charity battle pets
have raised over a million for good causes.
But if there's still some concern about meeting Daisy's donation goal, don't worry! Collectors will still be able to add this battle pet to their collection post-donation period, whether or not the $1 million donation goal has been met. According to the official post:
"Daisy will remain available for purchase in the Blizzard Shop or from the in-game shop August 2, 2021."
We can't wait to add Daisy to our collections. We'll update the WarcraftPets database with details on this pet once it becomes available.
COVID-19 Crisis Fund
Doctors Without Borders has created the COVID-19 Crisis Fund which will help provide aid in more than 70 countries to support those in dire need of relief from the effects of the pandemic.
Learn more about
Doctors Without Borders' COVID-19 Crisis Fund
, and donate or keep track of the donation goal progress on the
Doctors Without Borders Donation Drive page.
Let's come together and help support Doctors Without Borders and their efforts to address the recent COVID-19 pandemic.