Blizzard announced that the current season of MoP Challenge Modes will be ending with the pre-expansion patch. [
source
]
Thundering Serpent Hatchling In WoD
All MoP Challenge Mode achievements earned will become Feats of Strength. This includes the
guild achievement
that unlocks the
Thundering Serpent Hatchling
.
In addition to this change, updates from the WoD Beta indicate that the pet will not be available on the guild vendor in the expansion.
However, the Thundering Serpent Hatchling will not be going away any time soon. Those that purchased it prior to WoD will retain it in their collection, and those without it will still have a chance to collect it.

In WoD, you may see this little green dragon on the new Draenor BMAH every now and then. It's still unclear what the starting price of the Thundering Serpent Hatchling will be, or how often it will appear on the BMAH.
Collect Today!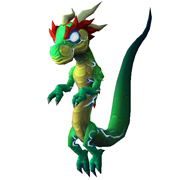 If the prospect of AH bidding wars seems daunting, there's still plenty of time to join a guild that's unlocked the pet. You will need to earn revered with the guild first and foremost; the pet costs 300 gold.
For those still in need of the Thundering Serpent Hatchling, WarcraftPets has a Horde guild on US Madoran that is open to all collectors. Message any current member of
Magical Menagerie
for an invite. This is a family-friendly and fun guild, so everyone is welcome! Read the
guild rules
for more information.
If Horde doesn't tickle your fancy, we also have a list of other guilds (both Horde and Alliance) on US and EU servers that will accept collectors seeking the pet.
List of Thundering Serpent Hatchling guilds