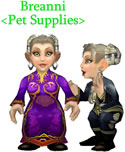 It appears as though Blizzard has chosen to honor my work on this site by immortalizing me as a
pet supply vendor
in the
Wrath of the Lich King
expansion! Thanks, Blizzard!

I—or rather my double—is situated in Northrend's capital city of Dalaran. So far, her goods include
[Rope Pet Leash]
and
[Fetch Ball]
. Let's hope she'll also be selling 28+ slot pet bags or expandable kennels... anything to help us collectors increase our bag space. For more info about these items,
click here
.
So start saving your gold, folks... my in-game counterpart is eager to sell her specialty pet wares (and hopefully I'll get a cut of the action)!