For those of you who are lucky enough to be attending BlizzCon next week, we've got a couple of special pet collecting treats for you!
WarcraftPets Meet-and-Greet!
Join me,
Breanni
(Brian), along with
Doobjanka
(Curtis) and
Sateena
(Melissa) for our 2010 BlizzCon Meet-and-Greet! I know... I know... I previously mentioned I wasn't able to attend this year. But my luck turned AWESOME at the last minute and now I'm BlizzCon-bound!

Just like
last year's meet-and-greet
, this will be a casual get-together that's open to anyone who's a fan of our site or pet collecting in general. We tentatively have the event scheduled as follows, but check our news or
Twitter
feed the day beforehand, just in case of any last-minute changes.
WHEN:
Friday, 4-5 PM
WHERE:
Realm Meetings section
LOOK FOR:
A WarcraftPets sign / admins wearing white WarcraftPets T-shirts
So don't be shy! Drop by and say hello. We'd love to meet you and put some faces with the usernames.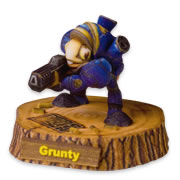 Limited Edition Grunty FigurePet
In addition to dropping by to meet our staff, BlizzCon attendees will also be able to purchase a brand new
FigurePet
to commemorate the occasion. This year we have
Grunty
the murloc marine immortalized as 3" tall figurine to shoot it out with the rest of your FigurePets collection!
Grunty will only be sold at the BlizzCon store. Be sure to get him early — only 1500 were made, so supplies are limited.