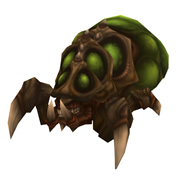 Blizzard announced the release date for Starcraft 2: Heart of the Swarm,
March 12, 2012.
However, you don't have to wait until then to obtain the the
Baneling
pet!
Collector's Edition and Digital Deluxe
The Collector's Edition of SC2: HotS comes with a number of extra goodies, including a World of Warcraft redeemable pet, the Baneling. More information on the CE box set can be found
here
.
Alternatively, you can pre-order the Digital Deluxe version which also includes the Baneling as part of the package. The Digital Deluxe does not include physical gifts such as artbooks, dvds, etc, and only comes with redeemable in-game items for WoW, SC2, and Diablo.
The Digital Deluxe costs $59.99 and can be purchased through Battle.net. If you have Starcraft 2 already attached to your account, there will be a green arrow indicating an upgrade is available.
After placing an order for the Digital Deluxe game, a little green companion will be waiting for you in your mailbox the next time you log into World of Warcraft!