The wait for the
Alterac Brew-Pup
is finally over! This pet is now available from the Blizzard Store. [
source
]
For Charity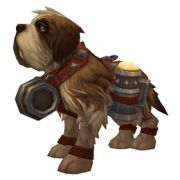 The Alterac Brew-Pup can be purchased from the Blizzard Store either as a standalone digital item, or as part of a special bundle that includes the Enchanted Fey Dragon mount.
The pet costs $10 while the pet and mount combo is $30. For every Alterac Brew-Pup purchase made between now and December 31, 2013, Blizzard will donate $5 to the
Make-A-Wish Foundation
.
Whether you love dogs or pets in general, you don't want to miss out on this adorable pup! Be sure to pick one up soon and help out a good cause. (
US Store
) (
EU Store
)