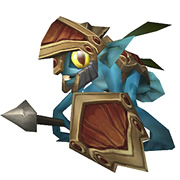 There was a recent announcement regarding the delay of the rated phase of the Arena Pass event. [
source
]
Although it was originally scheduled to start July 30, an issue has come up that needs to be resolved before the rated phase can commence. This affects both US and EU Arena Pass.
We have become aware of an issue that has prevented Arena Pass teams from being reset. To allow for time to resolve the issue and allow teams to plan accordingly, we currently intend to extend the practice phase and instead begin the rated phase of the Arena Pass on August 6. Currently, the conclusion of the rated phase is still planned for August 27.
The new schedule for the rated phase is:
August 6, 2013 to August 27, 2013 (US)
August 7, 2013 to August 27, 2013 (EU)
If you haven't played 50 rated matches for
Murkimus
yet, you may want to hold off until next week to start. Any Arena Pass games played prior to August 6 or August 7 will not count towards qualifying for the pet.
Those that have already started or completed 50 games will need to be sure to complete 50 matches in the coming weeks. With all of that extra practice, Murkimus the Gladiator would be proud of such a dedicated combatant!