Contests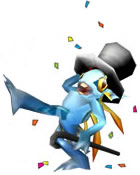 By entering into any contest conducted by WarcraftPets, you agree to comply with our official contest terms.
Sorry... we're not running any contests at this time. An announcement will be made in the news section whenever a new contest begins.
Past Contests
Doobjanka's Murkablo Holiday Giveaway
December 2013 - Contestants submit an idea for a new Winter Veil pet, along with three festive battle abilities.
Pet Tips for Mini Tyrael Contest
February 2013 - Contestants must link to a pet profile on our site and provide a strategic, informative or entertaining tip for the chosen pet!
Pet Battle Contest
January 2012 - Contestants were asked to use our Pet Battle Mini-Game creator to publish an original and amusing pet battle!
WarcraftPets Trivia Contest
June 2010 - Contestants were asked to answer 15 trivia questions testing their knowledge of vanity pets and WarcraftPets.com.
Suggest a Pet Contest
December 2009 - Contestants were asked to submit a suggestion for an all-new WoW vanity pet. We received over 1,500 amazing ideas. Check out some of our favorites.
Ad-It-Up Contest
May 2009 - Contestants were required to submit a set of four attention-grabbing web ads to help promote our site. Visit the gallery below to see the results!