Post your love for the new Fetish Shaman pet here.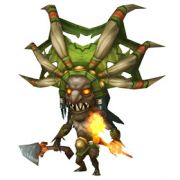 I really like the new CE pet. He's really vocal and is really detailed. I really like the animations too.
For those of you that are still looking for the CE, everywhere I look online it's around $200. I've seen it on eBay for $90, which is what I paid for it on Pre-Order on Amazon. Hopefully you can find it in a local store though. Good luck!