New Frostwolf Pup Datamined
So I see over on MMO Champion a new pet has been datamined from the latest beta build. Haven't seen it posted here or at Perks and Peeves so I thought I'd throw it out here.
From MMC Champion...
"Frostwolf Pup Name Changed from PetTemplate to Frostwolf Pup. Instant. Battle Pet. Instant."
http://media.mmo-champion.com/images/news/2014/august/frostwolfpup_fel.jpg
Yet another adorable puppy to collect. Gonna be a busy busy busy expansion.

---
Posts:2736
Joined:June 4th, 2008
Pet Score:13493
Realm:Proudmoore-us
Contact: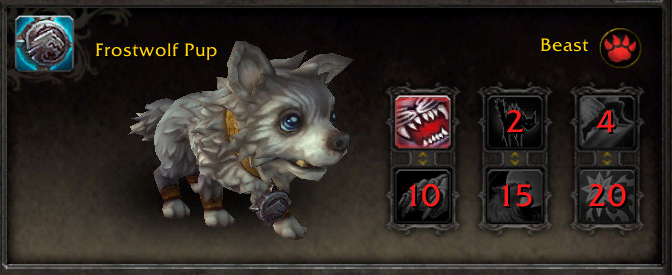 Frostwolf Pup - Vendor (TBD), Frostwolf Faction
aaand finally a cow pet!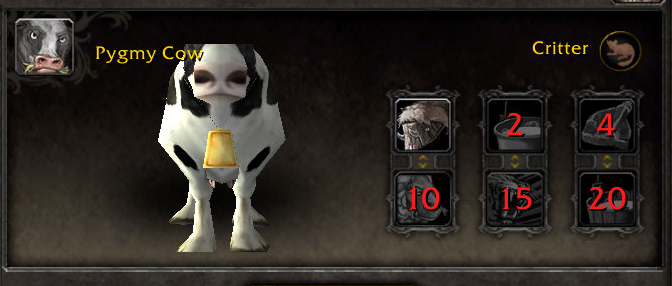 Pygmy Cow - Barn (T3), Garrison


Feel free to browse through my pet collecting blog: http://wowpetaddiction.blogspot.com
---
Yaaaaay a COW!! /happydance
I'm so excited now!

Come join us in the WarcraftPets In-Game Community (EU)! Request invite here:
https://www.warcraftpets.com/community/forum/viewtopic.php?f=11&t=18420
---
A COW!!! *throws gold at screen* One step closer to my dream of having a cow mount lol!
---
Posts:345
Joined:July 26th, 2013
Pet Score:9248
BattleTag®:ADumbledore#1672
Realm:Kil'jaeden-us
Contact:
That cow is so awesome. lol
Visit my pet battle blog: http://petpersuasion.wordpress.com/
---
...is the cow's lvl 2 ability icon a
bucket of milk
?

---