UPDATE
: The price for the Felbat Pup was lowered in a recent PTR patch. The number of Nethershards earned per invasion scenario was also lowered.
The Legion Pre-Patch hit the PTR last week, ready for testing! A release date for the pre-expansion content has not been announced yet. [
source
]
Collectors and battlers will want to keep in mind a few notable Pet Battle updates plus a new addition as the Legion Pre-Patch draws nearer.
Upcoming Changes
A number of changes and updates to Pet Battle content will be released along with the pre-expansion patch. Note that the following is not set in stone and may be subject to change prior to release.
A New Addition
The Legion Pre-Patch isn't without its goodies; a new pet will be available during the pre-expansion Demon Invasion World Event.
Complete open world scenarios and collect
Nethershards
to spend at special vendors located in Stormwind/Orgrimmar and near the invasion points.
The new pet,
Felbat Pup
(pictured right)
, will cost 1800 Nethershards. Each invasion will reward 260 shards, so collecting this pet will require the completion of roughly seven invasions.
It's unclear if this pet will be exclusive to the Demon Invasion World Event, or if it will remain available once the event has ended, similar to the
Bronze Whelpling
.
Whereabouts of the Deathwatch Hatchling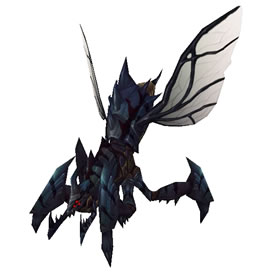 Currently the
Deathwatch Hatchling
is still listed in the Pet Journal as a guild vendor pet, and can also be found under the guild rewards tab on the PTR. It's unknown if this will change prior to the Legion Pre-Patch's release.
We'll have to wait and see if the Deathwatch Hatchling will be joining the
Thundering Serpent Hatchling
(MoP Guild Gold Challenge Mode pet) on the Black Market Auction House in Legion.
With the fate of the Deathwatch Hatchling up in the air, collectors may want to add this pet to their collection sooner rather than later. There's still some time before the Legion Pre-Patch and expansion release, so collect away!